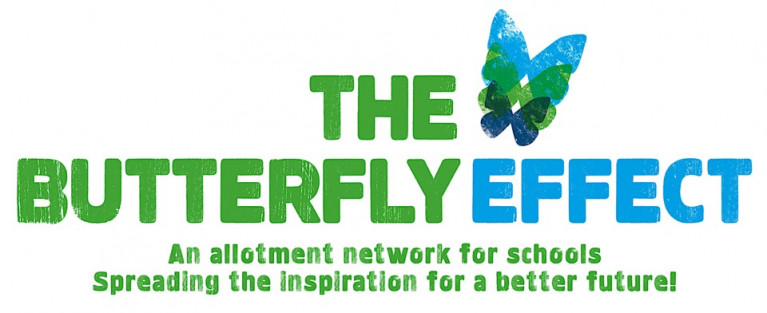 The Butterfly Effect is the name our school allotment network here in Norfolk. It's our goal to bring schools and colleges together to spread the inspiration.
All of the schools we have worked with, and are due to work with, are a part of The Butterfly Effect. As a member of the The Butterfly Effect who will receive our 'soft help' programme and the following benefits, free of charge, from us a charity:
Site visits from our Project Leader & Founder, the multi-award winning school gardener, Matt Willer to help give some top tips and advice. Please contact us to make a booking.
We would be very happy to hold a whole school or year group assemblies/class presentations to help inspire young people. Please contact us to make a booking.
Invitation to our biannual convergences at City Academy Norwich (our base). A golden opportunity to connect, collaborate and celebrate with other schools. We strongly encourage the sharing of ideas and resources at our convergences (informal gathering).
One of our seasonal 'cocoon boxes' which, once opened, will literally help to transform your school garden/allotment.
A complimentary copy of our quarterly magazine 'The Kaleidoscope' (the collective noun for a group of butterflies) will always help to inspire you with ideas, key events, grants opportunities and helpful advice. Click here to see the latest version.
We will endeavour to assigned a Papillon Project 'allotment guru' who is local to your school. You are welcome to email them advice or, pending your invitation they could certainly support you with lunchtime or school activities.
Free educational resources for teachers. We like to think that, as teachers, you will use this material, where relevant and appropriate, in your lessons

to inspire children/young people about leading more sustainable lives. Engaging students always begins with you as teachers in the classroom.
Training courses for teachers and local adult volunteers who help your project. From what to grow and how to grow it, to leading a school allotment, we have huge experience with running school/college allotments and we, with great passion, are very keen to share this with you! Please get in contact to learn more about these courses.
Please see at the bottom of this page visual examples of our 'soft help' programme
Why 'The Butterfly Effect'?

The name reflects the ethos and 'butterfly' connotations of The Papillon Project. It is said: a minor change such as a butterfly beating its wings can, in time, create phenomenal change such as a typhoon in another part of the world'. We absolutely believe in this saying especially because "the butterfly is a positive symbol of transformative change in nature, from its previous life as a caterpillar (David Holmgren)." Just like ripples spreading out and getting larger on water, it takes one small change to make a massive impact. We are truly amazed to learn that our multi award-winning flagship project at Reepham High School & College (The Allotment Project) has certainly started its own ripple effect by directly inspiring other secondary schools to create their own school allotments in Norfolk.
The Butterfly Effect, as a network, aims to harness the positive energy of all schools that we work with, and to bring people together with a common goal of sharing inspiration and promoting school allotments. The more schools that are involved, the bigger the ripple and the greater the impact will be. Who knows where these ripples of inspiration could lead!