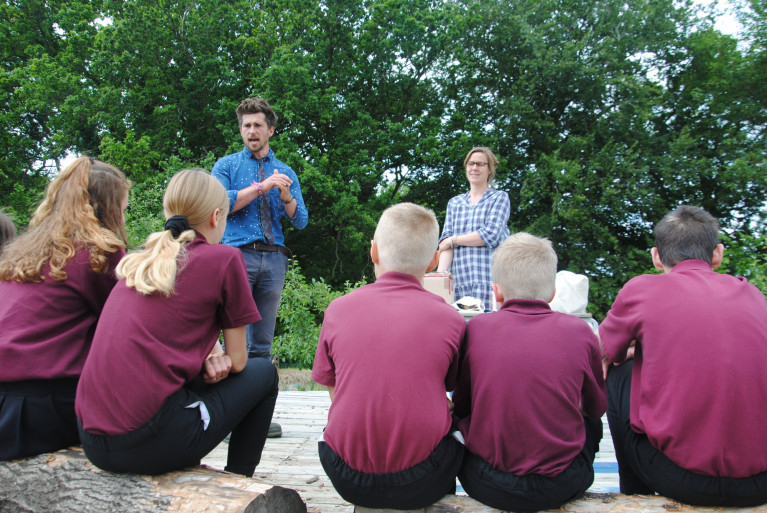 The Butterfly Effect is the name of our school allotment network/support group here in Norfolk. It's our goal to bring schools and colleges together to spread inspiration and enthusiasm.
All of the schools we have worked with, and are due to work with, are a part of The Butterfly Effect. As a member of The Butterfly Effect you will receive the following benefits, free of charge*, from us a charity:
Site visits from our School Projects Lead and Founder, the multi-award-winning school gardener, Matt Willer, who will provide help, top tips and advice. Please contact us to make a booking.
We would be very happy to lead a whole school or year group assembly or class presentation to help inspire young people. Please contact us to make a booking.
Invitations to our biannual convergences (informal gatherings) at our base, City Academy Norwich. A golden opportunity to connect, collaborate and celebrate with other schools. We strongly encourage the sharing of ideas and resources at these events.
One of our seasonal 'cocoon boxes' which, once opened, will help to transform your school allotment.
A complimentary copy of our magazine 'The Kaleidoscope' (named after collective noun for a group of butterflies!) which, we hope, will inspire you with ideas, key events, grants opportunities and helpful advice. 
We will endeavour to assign a local Papillon Project 'allotment guru' to your school. You are welcome to email them to ask advice and they may be available to support you with lunchtime or school activities.
Free educational resources for teachers. We like to think that, as teachers, you will use this material, where relevant and appropriate, in your lessons

to inspire children and young people to lead more sustainable lives. Engaging students always begins with you as teachers in the classroom.
Free places on our SALT (School Allotment Leadership Training) courses throughout the year. Please click here to learn more.
You can apply for your school to become a member of The Butterfly Effect by clicking here.
*Being honest and transparent, we are a small charity run by a very awesome and dedicated group of unpaid volunteers. Everything listed above are services of support that we have offered successfully in the past. However, depending on the availability of funds and volunteers' time/availability each year, we cannot currently guarantee to deliver all of the above each year, but we will try our very best to do so as we absolutely love what we do! We thank you for your understanding as our charity continues to develop.
Please see at the bottom of this page visual examples of the benefits of your school being a member of The Butterfly Effect.
Current schools who are part of 'The Butterfly Effect' support network:
Reepham High School & College
Dereham Neatherd High School
Litcham School
Sprowston Community Academy
Thorpe St Andrew School & Sixth Form
City Academy Norwich
Hethersett Academy
Old Buckenham High School
Long Stratton High School
Diss High School & Sixth Form
The Pine Tree School (Thetford)
King's Lynn Academy
Smithton High School (

Hunstanton)

The Locksley School (Norwich)

Aylsham High School

Downham Market Academy
The Douglas Bader School (Badersfield)
The Parkside Special School (Norwich)
Ormiston Victory Academy
Acle Academy
The Hewett Academy
Sheringham High School ('The Patch')
Northgate High School (Dereham)
Attleborough Academy