Celebrated Patrons: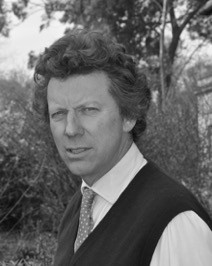 Sir Nicholas Bacon OBE DL                                                      
Former President of The Royal Horticultural Society. Sir Nicholas first the visited multi-awarding winning 'Allotment Project' at Reepham High School & College in 2019, the school allotment which helped to create The Papillon Project. We are deeply honoured to have his support for our charitable work. Sir Nicholas lives at Raveningham Hall in South Norfolk. The inspirational and celebrated gardens at the Raveningham Estate are open to the public.
David Holmgren
David Holmgren is the co-originator of the permaculture concept following publication of Permaculture One, co-authored with Bill Mollison in 1978. David is globally recognised as a leading ecological thinker, teacher, writer and speaker promoting permaculture as a realistic, attractive and powerful alternative to dependent consumerism. Other key publications include Permaculture: Principles and Pathways Beyond Sustainability (2002) and Future Scenarios: How Communities Can Adapt To Peak Oil and Climate Change (2009) and most recently, RetroSuburbia: The Downshifter's Guide to a Resilient Future (2018).
Meet our charity's team...
We are all from different backgrounds and walks of life, but we all collectively, and positively, work together to enrich and develop The Papillon Project. We are all very friendly, approachable, incredibly dedicated and really value each other's areas of experience and expertise. We also enjoy laughing at each others jokes and funny stories from time to time!
The Papillon Project is made of four main groups that make our charitable work possible:
1) Board of Trustees:
They have ultimate responsibility for The Papillon Project as a charity and our accountable to The Charity Commission.
2) The Leadership Group:
These people work together, as a diverse and super positive team, to run The Papillon Project on a day-to-day basis. Other the Project Lead, all members of this group are unpaid volunteers. This incredibly dedicated group of people conduct the charity's work or help to raise crucial funds so we can continue to make our charitable work possible.
3) Our volunteers:
We are incredibly lucky to have a great many wonderful volunteers who are extremely dedicated to supporting our charitable work. From our school volunteers to our events volunteers, The Papillon Project simply would not run without this extremely kind people. Our most experienced school volunteers are given the title 'Allotment Guru' and whom continue to support a school allotment project that is local to them. Some of our volunteers are also 'Buddies' (supportive friends) of the charity.
4) Our advisors, ambassadors and liaisons:
The charity is incredibly fortunate to have some brilliant individuals to help us conduct and connect our charitable work with the wider Norfolk community.
Simon Waller: Water engineer and irrigation advisor

Jeremy Buxton: Farming liaison (Eves Hill Farm)

Richard Powell OBE: Regional ambassador (Chair of Wild Anglia & Director of Director of the History of Advertising Trust)

Emily Stewart-Rayner: Norwich allotments liaison (Allotments officer & parks assistant for Norwich City Council)

Sam Garland: Horticultural advisor (Head Gardener at the Bishop's Garden, Norwich)

Dr Tom Fox: Woodwork and construction advisor

Dr Alan Davies: Master composter (professor emeritus of mathematics at University of Hertfordshire) 

The Revd. Keith Rengert: Diocese of Norwich (Church of England) liaison 
Please see profiles of Papillon Project trustees and lead roles below: