Notable recognitions:
We are incredibly proud to have the support of some high profile organisations and figures including David Holmgren, the co-originator of the permaculture concept and charity Patron, who recorded this message for us ahead of our official launch in November 2019. 
Between 2017-2019, The Allotment Project started to gain some serious attention and recognition; from winning at the Norwich and Norfolk Eco Awards for best 'eco-secondary school' in the county in 2017-18, and again in 2018-19, to subsequently appearing on regional (Anglia News) and live national television (BBC Breakfast).
Before founding of The Papillon Project, Matt Willer himself won the prestigious Royal Horticultural Society's 'School Gardening Champion of the Year' national award in 2018 and later won the Norwich and Norfolk 'Eco Hero' award, with over 3000 people public votes, in 2019.
Matt has also published many articles about his experiences of creating The Allotment Project in leading magazines such as Permaculture, The Royal Horticultural Society's The Garden, Norfolk Life, Norfolk Suffolk Life and the Waitrose Weekend magazine.
Also, before founding The Papillon Project, Matt was personally invited to meet the former HRH The Prince of Wales (now His Majesty King Charles III) at the Sandringham Flower Show in July 2018 for his environmental work and has subsequently received visits to The Allotment Project from Sir Nicholas Bacon (President of The Royal Horticultural Society), the Bishop of Norwich and Frances Tophill from BBC Gardener's World.
Matt has also been on the discussion panel for the Norfolk & Norwich Horticultural Society for a public discussion about 'Gardening for All' and how to get more people, including children and young people, involved in gardening. In 2021 Matt was invited to be an advisory for the Food and Farming Discovery Trust.
These hard won accolades, media attention and other public events catapulted The Allotment Project at Reepham High School and College, along with the very idea of taking school gardening seriously, to a whole new level; all helping 'The Allotment Project' to become one of the leading secondary school gardens/allotments in the country. The success of 'The Allotment Project', along with the experiences gained from creating and developing it, have directly inspired the creation of 'The Papillon Project' which, with enormous zeal, energy, passion and determination, desires to replicate 'The Allotment Project' at Reepham High School and College, in other secondary schools and colleges across Norfolk.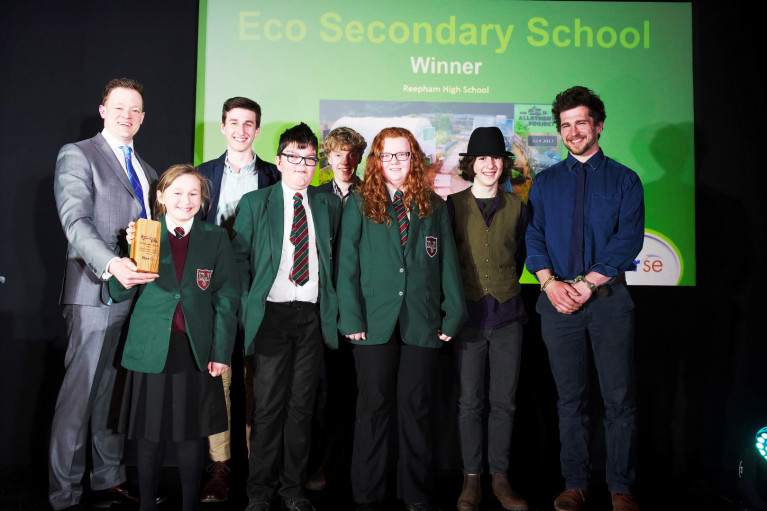 Above: Reepham High School's Allotment Project being awarded best secondary school eco project in 2018 and again in 2019 (below).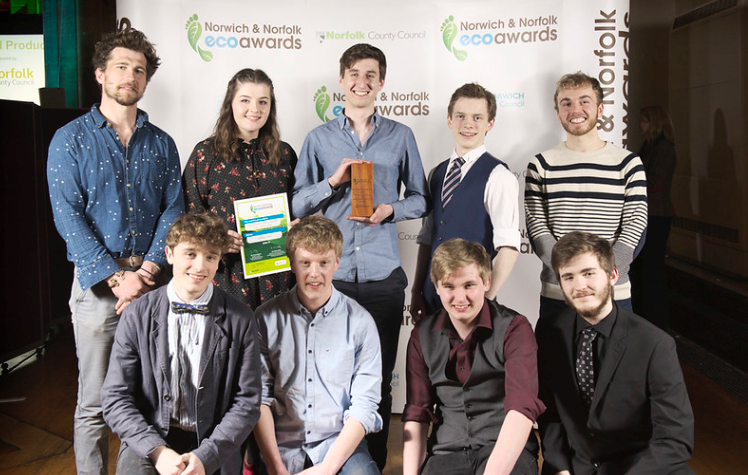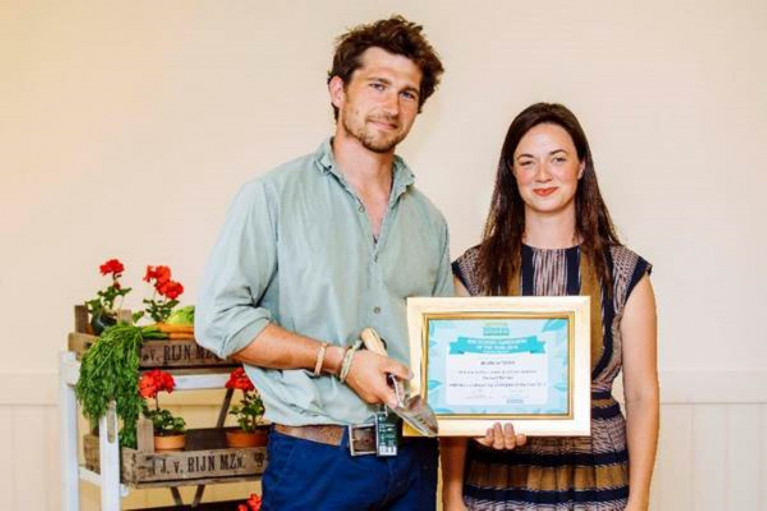 Above: Matt Willer being awarded Royal Horticultural Society's School Gardening Champion of the Year Award in 2019 by BBC Gardens' World  presenter Frances Tophill
---
Positive News: 100 people and organisations bringing hope in 2020
At the very start of 2020 we were extremely humbled to been chosen by Positive News magazine as one of a hundred people & organisations bringing hope in 2020 and 'an inspiring project to feel optimistic about in the decade ahead.' We were chosen alongside environmental legends like Greta Thunberg and Sir David Attenborough!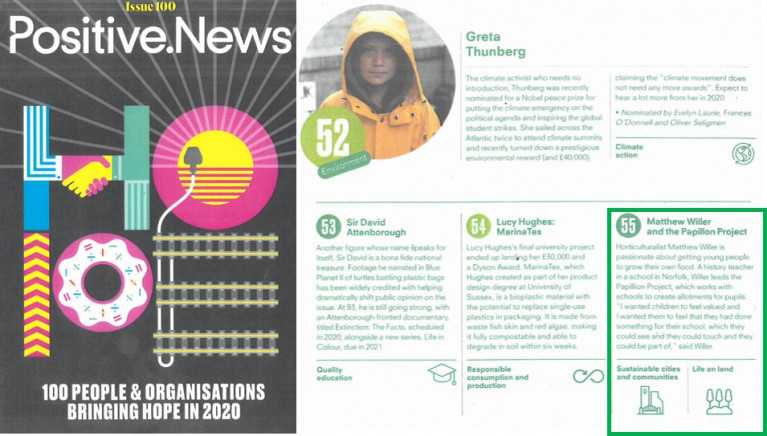 ---
Royal Horticultural Society's School Gardeners of the Year awards judging panel
In 2023, Matt Willer, Papillon Project's founder and Schools' Project Lead, was invited by the Royal Horticultural Society to be on the judging panel for the national 'School Gardeners of the Year' awards alongside 'Green Fingered George', founder of Grow2now Tayshan Heydon-Smith and  BBC Gardeners' World presenter Frances Tophill. Please click here to learn more.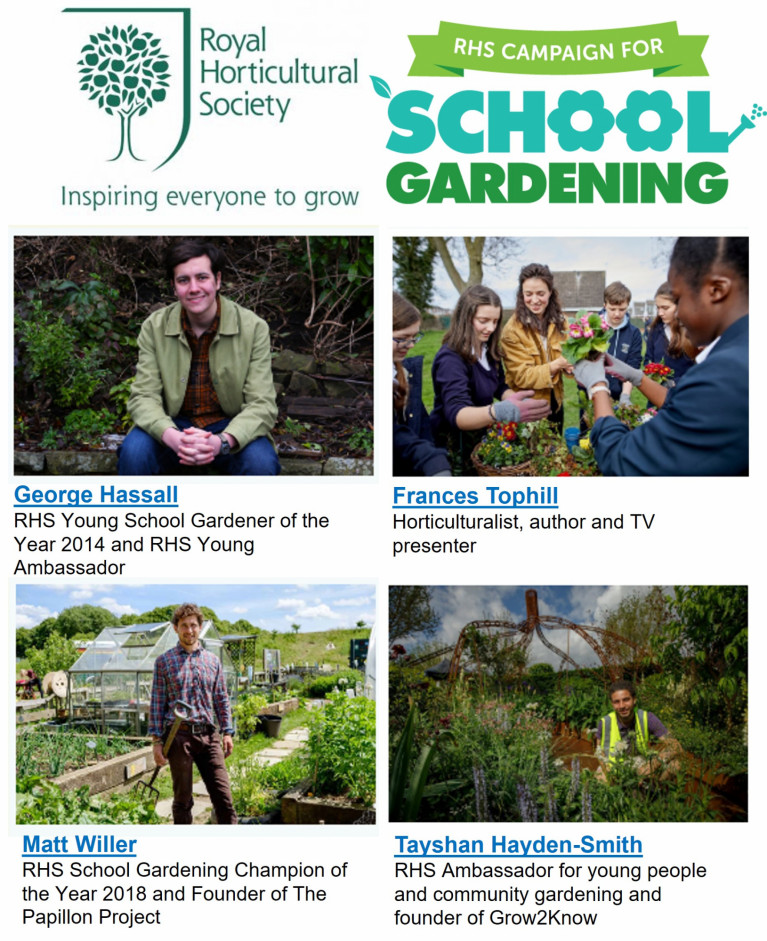 ---
BBC Gardeners' World Magazine podcast with Adam Frost
Papillon Project founder, Matt Willer, talks with BBC Gardeners' World presenter, Adam Frost, about gardening with young people and why it's so incredibly important! Please click here to listen to this podcast.

Credit: BBC Gardeners' World Magazine
---
Papillon Project awarded 'blue plaque'
In March 2023, the Lieutenancy of Norfolk awarded The Papillon Project with a blue plaque to recognise our work with young people during the pandemic. We worked with key worker and vulnerable children who still came to schools during the academic year 2019-20. Below is Papillon Project founder receiving this recognition by Dr Rose Barnes, Deputy Lieutenant of Norfolk at City Academy Norwich along with link teacher Andy Gilbertson and Sapientia Education Trust CEO, Jonathan Taylor MBE.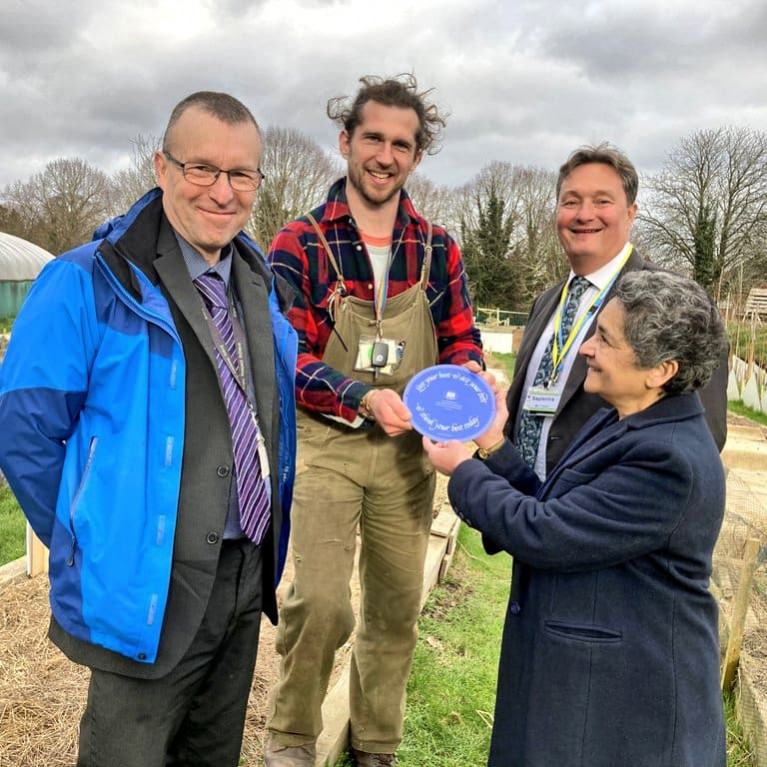 Credit: City Academy Norwich
---
Apprenticeship Norfolk - a case study
In the spring of 2023, The Papillon Project was chosen by Apprenticeship Norfolk to feature as a case study to promote apprenticeships in Norfolk a series of short films (please see below).
---
The 'Pap Leeky' Expedition
In August 2023, a team of volunteers came together to paddle an improvised and upcycled raft ('Pap Leeky') 27 miles (43.5 kilometres) from Norwich to Great Yarmouth over four days (August 17th-20th). The goal of 'Pap Leeky' was to help raise funds, highlight the arrival of The Papillon Project coming to support schools in Great Yarmouth come September 2023 and to also help draw greater awareness of sea level rise due to climate change and sustainable water usage too. It was huge logistical challenge involving sound team work from start to finish. Over £5500 was raised via JustGiving (please click here).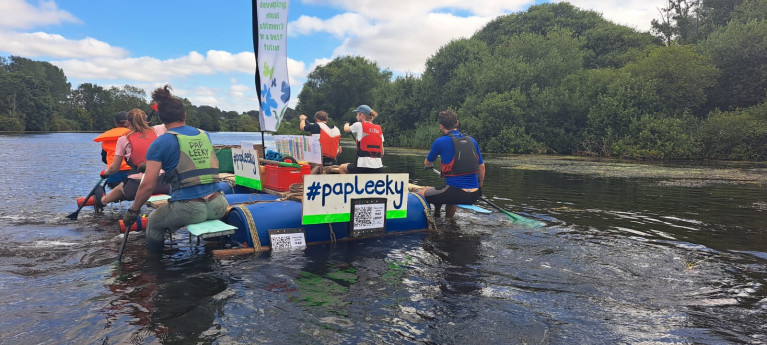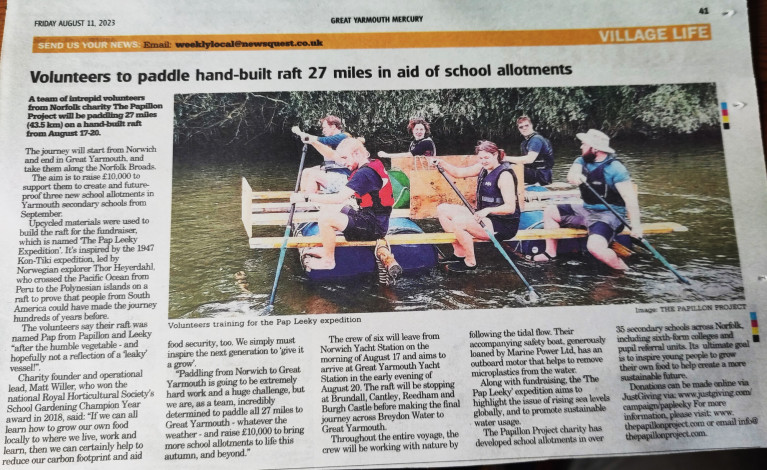 Above: Great Yarmouth Mercury, August 2023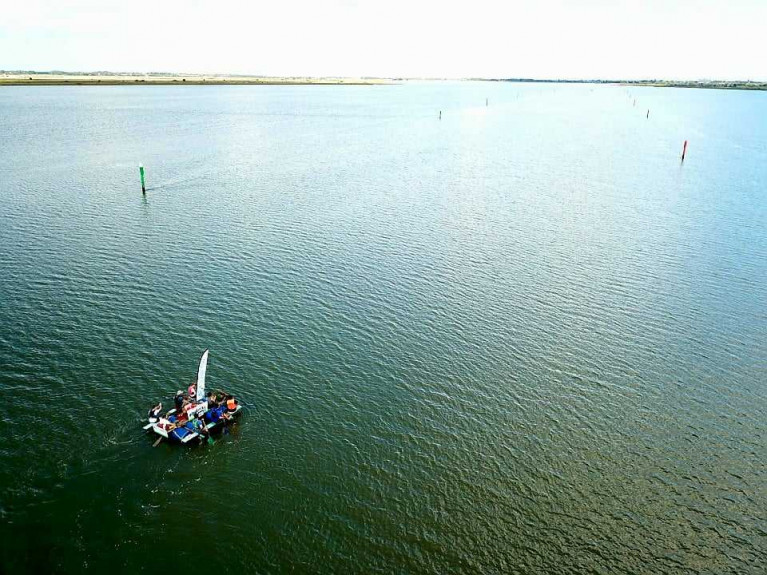 Above: Pap Leeky crossing Breydon Water outside of Great Yarmouth, August 20th 2023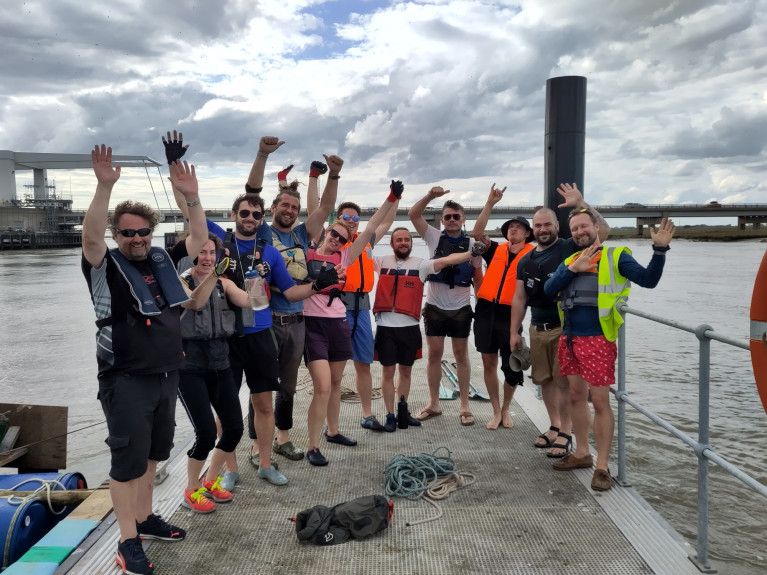 Above: Some of the many people from The Papillon Project who made Pap Leeky possible.