Learning from experience for life
Along with learning to mix with new people, having a school allotment can certainly help to provide children and young people with the opportunity to gain life skills and life knowledge.
There are so many interesting things to think about at a school allotment including a huge amount of problem solving to be done and so much new understanding that can be gained from being involved with a school allotment. Adult volunteers be they staff, parent or even members of the local community, can impart their own knowledge from how to grow potatoes to how to create a rainwater catcher through to building a timber structure.
There is no better place than a school allotment for adults and students to meet so that they can learn together. Of course, it does not matter in the slightest that a raised bed might be a bit wonky, it really doesn't matter because the children and young people built it and that is all that counts! Nature has no straight lines so why should we!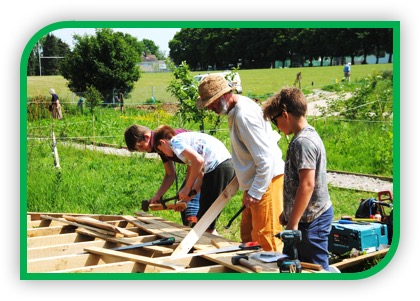 Tom (parent volunteer) working alongside student volunteers Robert and Sam (Year 9) and Charlie (Year 7) on the 'eco-building (outdoor classroom) at 'The Allotment Project', Reepham High School & College
Why create and develop a school allotment? 
| | |
| --- | --- |
| REASON 1 | |
| REASON 2 | |
| REASON 3 | |
| REASON 4 | |
| REASON 5 | |